The trees say, "it's simple, and you too have come into the world to do this: to go easy, to be filled with light, and to shine." -Mary Oliver
Dear Colleagues in Ministry:
This last week has been a good one for me in many ways. I, like the trees, wish to go easy and be filled with light and to shine. I hope you have had moments of grace and resurrection in this past week as well. It started with the Standing Committee meeting last Thursday. They are my council of advice and also the group that creates my Episcopal Mutual Ministry Review. Part of our time was spent talking about the review and its findings (as leaders of the diocese you will have access to the summery report that is being written by our consultants, Dan and Linda Martin). It was a great review, not because they did not challenge me but because they found ways to challenge with words I could hear and in appropriate areas of ministry development. I continue to try to grow as a person and as your bishop. Thanks to all who took part in the EMMR.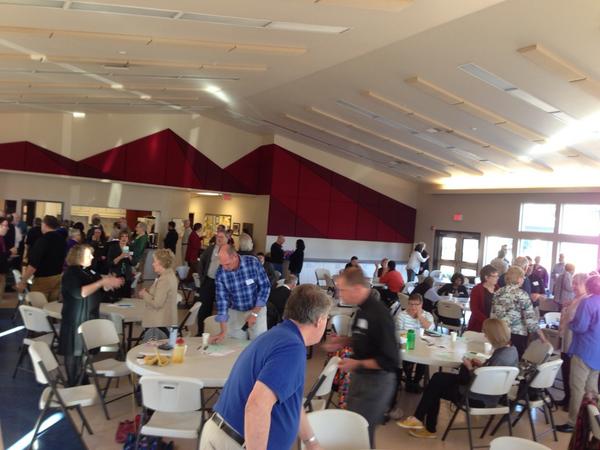 On Friday I traveled to Eugene for the Fall Leadership Day with Dr. Lisa Kimball. It was a great day and much was offered and received. Thanks to Lisa and to the people of St. Thomas who hosted the event and to my staff who helped make the day run well. I hope that you will look on our website for links to the resources Lisa offered on Education, they were very good. I was particularly struck by Lisa's passion about being a person of good news and living life out of a sense of resurrection. She challenged us all to live resurrection lives.
On Saturday I went again to Eugene for the 50th anniversary celebration of Resurrection parish. I arrived in time for the high Mass on Saturday night, slept in my T@B trailer alongside those who live in the small homes in the parking lot of the church and celebrated again with a festive Eucharist Sunday morning. It was good to see a parish alive in the spirit and growing toward God and service in the world. Thanks to Brent Was and the entire congregation for the event.
Then, on Monday I went on my day off to an ear doctor to discuss hearing aids. I lost the hearing in my right ear when I was six and also had some limited loss in my left ear. As it was nerve damage I have always been told there was not a good system of aids to help my type of loss. Now there is and on Monday next I will try this new system out. I am hopeful. After not hearing so well for 54 years this is an amazing possibility.
On Tuesday I worked in the office at the Close and had a number of lively discussions. One was on Ballot measure 88, which makes four-year driver licenses available to those who cannot prove legal presence in the United States. It is a measure I support but it will be all of our jobs to consider the merits of the measure as we vote in November. I also had lunch with an Episcopal layman who works as a business coach. We had a good discussion of how a coach can help someone grow into the full person God intends. While we did not use the language of Mary Oliver's quoted poem above we could have.
It is good to go easy, to be filled with light and to shine.
+Michael